Tracing Romany, Traveller or Fairground folk?
We're the family history society for you. It's a great way to trace your special roots, meet people who share your interests and find out more about your heritage.
Is your ancestor in our Publications?
Browse through the range of specialist books published by the RTFHS. We may have one that includes your family and perhaps even your complete family tree.
Is your ancestor in our photo Gallery?
Take a look at our great old photos of travelling people and travelling life, sourced mainly from our members' family albums and postcard collections.
Did your Romany family travel in the southern counties of England? The RTFHS has just published a free online book of old family photos. See our Free Records page to find out more and view the book.
What's new?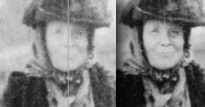 The commercial genealogy company MyHeritage has launched a new photo enhancing service on its website. This automatically sharpens up old photos that are blurred or
Events
Time: 10.00am-4.30pm UK time
Location: Online event
Time: TBC
Location: Summerlin Centre Memorial Hall, 4 High Street,Woburn Sands, Milton Keynes MK17 8RH
Time: TBC
Location: Online event