Tracing Romany, Traveller or Fairground folk?
We're the family history society for you. It's a great way to trace your special roots, meet people who share your interests and find out more about your heritage.
Is your ancestor in our Publications?
Browse through the range of specialist books published by the RTFHS. We may have one that includes your family and perhaps even your complete family tree.
Is your ancestor in our photo Gallery?
Take a look at our great old photos of travelling people and travelling life, sourced mainly from our members' family albums and postcard collections.
Just launched: "Fairground Destiny: the story of the Rowland family" by Frances Brown. See the "Family Histories" section under the Publications tab to find out more.
What's new?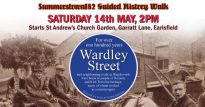 Did your Gypsy/Traveller people live or work in or around Wardley Street, Wandsworth? If so, you might be interested in a guided walk that takes
Events
Time: 10.00am-4.00pm
Location: Midland Arts Centre, Cannon Hill Park, Birmingham B12 9QH.
Time: 10.00am-4.00pm
Location: Marlborough School, Shipton Road, Woodstock, Oxfordshire OX20 1LP