Tracing Romany, Traveller or Fairground folk?
We're the family history society for you. It's a great way to trace your special roots, meet people who share your interests and find out more about your heritage.
Is your ancestor in our Publications?
Browse through the range of specialist books published by the RTFHS. We may have one that includes your family and perhaps even your complete family tree.
Is your ancestor in our photo Gallery?
Take a look at our great old photos of travelling people and travelling life, sourced mainly from our members' family albums and postcard collections.
It was good to meet so many of you in Sheffield. And if you missed us there, we're going to be in York on Saturday 23 June and at the Romany Weekend near Farnham in Surrey on the 23rd and the 24th. See our Events page to find out more.
What's new?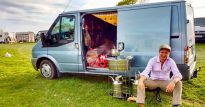 A new book about British Gypsy Life called The Stopping Places by Damian Le Bas is being published on 7 June 2018. Starting today – 4 June
Events