Tracing Romany, Traveller or Fairground folk?
We're the family history society for you. It's a great way to trace your special roots, meet people who share your interests and find out more about your heritage.
Is your ancestor in our Publications?
Browse through the range of specialist books published by the RTFHS. We may have one that includes your family and perhaps even your complete family tree.
Is your ancestor in our photo Gallery?
Take a look at our great old photos of travelling people and travelling life, sourced mainly from our members' family albums and postcard collections.
It's membership renewal time so we look forward to receiving the yellow form that arrived with your Romany Routes in early September 2017. And this year, don't forget to tick the box on the form to show that you're happy with the way we take care of your personal information. All the details are on the form.
What's new?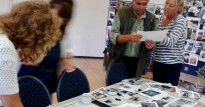 There's a meeting on Sunday 1 October 2017 at Eastwood, Essex, for everyone who's interested in the many Gypsy families who used to live on
Events