Tracing Romany, Traveller or Fairground folk?
We're the family history society for you. It's a great way to trace your special roots, meet people who share your interests and find out more about your heritage.
Is your ancestor in our Publications?
Browse through the range of specialist books published by the RTFHS. We may have one that includes your family and perhaps even your complete family tree.
Is your ancestor in our photo Gallery?
Take a look at our great old photos of travelling people and travelling life, sourced mainly from our members' family albums and postcard collections.
Make sure you have Saturday 24 October in your diary and meet us for our Family History Open Day in Abbots Langley, Hertfordshire. It's free for RTFHS members. See our Events page for more info.
What's new?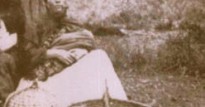 Meet the RTFHS team at this Family History Fair, organised by the Hampshire Genealogical Society (HGS). We'll have books on sale and will be pleased
Events
Time: 11.00am until 4.00pm
Location: St Lawrence Church Hall, High Street, Abbots Langley, Hertfordshire WD5 0AS.