Tracing Romany, Traveller or Fairground folk?
We're the family history society for you. It's a great way to trace your special roots, meet people who share your interests and find out more about your heritage.
Is your ancestor in our Publications?
Browse through the range of specialist books published by the RTFHS. We may have one that includes your family and perhaps even your complete family tree.
Is your ancestor in our photo Gallery?
Take a look at our great old photos of travelling people and travelling life, sourced mainly from our members' family albums and postcard collections.
Join us in Sutton Coldfield on Saturday 13 May 2017 to hear talks by Alex Cox of Find My Past, Steven Knight - creator of the BBC drama series Peaky Blinders, and local historian and Gypsy expert Ted Rudge. Entry to the day is free for RTFHS members. See our Events page for details.
What's new?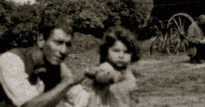 The General Register Office (GRO) in England and Wales is currently running a pilot scheme where it can supply family historians with PDF versions of
Events