Research Guides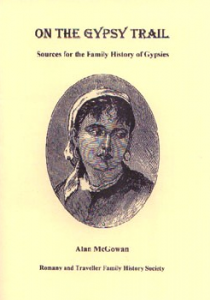 On The Gypsy Trail – Sources for the Family History of Gypsies
By Alan McGowan
Based on the author's own research into Gypsy families in Hampshire and Surrey, this book advises the researcher how to locate entries for Gypsies, and how to overcome problems arising from Gypsies' frequent avoidance of birth registration, marriage, and other formalities. Subjects covered include birth and baptism, names and occupations, marriage, death and burial, Poor Law records, census returns, court and police records, hawkers' and pedlars' licences, missions and schools, fairs and fairgrounds, printed sources, military records, special collections, indexes, personal recollection and family legend.
Includes ten illustrations of original documents. A5, 32 pages.
"This is an excellent guide to the consultation of miscellaneous source material which may result in the discovery of a Gypsy ancestor."
Family Tree Magazine, November 1998
Currently out of print
Check here for the RTFHS Mail Order Terms & Conditions.
My Ancestors Were Gypsies
By Sharon Sillers Floate
Third Edition – 2010
Published by the Society of Genealogists
A comprehensive guide to the sources available – and the techniques to use – to help you research your Gypsy family tree. This updated edition includes additional sections on the 1911 census and emigration, plus details of the many useful websites and publications that have appeared since the last edition in 2005. A5, 112 pages.
"This up-to-date edition … will be invaluable to all those who have encountered Gypsy 'brickwalls'."
Family Tree Magazine, January 2011
Like to buy?
Price including UK P&P: £10.15.
Complete this RTFHS Publications Order Form May 2019 to order by post and pay by Sterling cheque.
Or go to the RTFHS bookstall at GENfair to order online and pay by card.
Check here for the RTFHS Mail Order Terms & Conditions.
Ordering two or more books in a single order and want to pay by Sterling cheque? Contact us first at sales[at]rtfhs.org.uk to see if we can offer you a combined postage rate.
 This page last updated: 15 May 2019.