Signposts: useful family history sources, county by county
This new Signposts page alerts you to the sources available for family history research in different parts of the UK, highlighting any that are specifically useful if you have Romany, Traveller and Fairground ancestors. We will be adding new counties from time to time so please check back regularly to see if your area of interest is covered. Currently we offer Cambridgeshire & Huntingdonshire, the East Riding of Yorkshire and Hull, Hertfordshire, Lancashire, Norfolk and Surrey.
 
Cambridgeshire & Huntingdonshire
Main archives for the county
These are housed in two locations: the Cambridgeshire Archives in Cambridge and the Huntingdonshire Archives in Huntingdon. There's an online catalogue that covers the holdings of both here.  The catalogue contains a small number of digitised photographic images of Gypsies and vans: try searching on 'Gaskins' to see one example. Name and occupation searches are also useful as the records for things like vagrancy records are indexed down to the level of individuals' names.
Major collections of historic parish records online
Ancestry: 

Extracted transcribed entries for baptisms, marriages and burials are on offer for both Cambridgeshire and Huntingdonshire. These give names, place and date but usually no other information. For marriages, the names of the fathers of the bridge and groom may be included.

Find My Past: Transcribed parish register entries are available for the two counties. Some transcriptions include the father's occupation and abode as well as names and dates.
Ancestor Finder: the Cambridgeshire & Huntingdonshire Family History Society has transcribed the baptism, marriage and burial records for many parishes. Searches of the online indexes through their Ancestor Finder service are free and the transcriptions – and some original digitised register entries – can be viewed on payment of a small fee.
FamilySearch: This free website holds indexed transcriptions of parish register entries and Bishop's Transcripts. If you visit a Family History Centre then you can also have access to the original registers as digitised images. Also it's a good idea to search under the Images tab on the England page to see the site's holdings of unindexed digitised records for different parishes. For Cambridgeshire and Huntingdonshire these include some workhouse, gaol and Poor Law records that you can browse through.
Newspapers – subscription sites
The British Newspaper Archive includes 12 newspapers covering Cambridgeshire and Huntingdonshire. These are duplicated on the Find My Past site.
Family History Societies
There are three:
Items of particular interest for tracing Travelling ancestors
Register of Huntingdonshire Pedlars' Certificates, 1877 to 1967
These registers are held on microfilm at the Huntingdonshire Archives. They list the individuals to whom certificates were granted annually to enable them to sell goods from door-to-door and in the street within the county of Huntingdonshire. Commonly these pedlars were Romany Gypsies and other Travellers. The registers give names, age, place of residence and the dates of purchase and expiry of the licence. Typical examples are: Emma Brinkley, aged 44, of St Ives, date of issue 1 July 1877; Salumy Smith, aged 74, Bluntisham, 28 September 1877; Sophia Gray, aged 56, Huntingdon, 4 February 1878; Noah Slender, aged 22, Huntingdon St John, 17 June 1878; Madona Smith, aged 26, Buckden, 21 June 1878; Goliath Draper, aged 40, Godmanchester, 16 August 1879.
It's sometimes possible to spot family groups – where a number of people of the same surname have applied for or renewed their licences on the same day. With women, a change of surname from one year to the next might indicate that a marriage has taken place. If a pedlar wished to trade in more than one county, he or she would have to purchase a separate certificate from the county police force for each one. They cost 5 shillings each in 1871 – about £16 in modern money: a considerable outlay.
Originally published in 'Romany Routes', the journal of the RTFHS, in the September 2021 edition.

East Riding of Yorkshire and Hull (ERYH) by Chy Hersey
Introduction
These notes are for those who might want to look for records of Romanies, Fairground people and other Travellers in the East Riding of Yorkshire or Hull (abbreviated below as ERYH), primarily before 1940. It is a starting point not a complete guide! If you have not researched the family histories of itinerant people before, please look at the many guides and other records on the RTFHS website first.
The East Riding of Yorkshire derives its name from the old English 'thriding', meaning a third part.  Historically, there never was a South Riding or a South Yorkshire. Hull is actually Kingston upon Hull and was originally Wyke upon Hull, Hull being the river.  It became the 'King's Borough' in 1299 but the history of East Riding and Hull have long been intertwined, and this still applies to their records.
The old East Riding was bounded almost completely by water: the North Sea, the Humber, the Ouse and the Derwent, with only a small area in the north east accessible by land.  This constrained movements and Travellers had to use the small number of bridges or risk the perils of ferries. This means it was difficult to enter or leave the county unnoticed, especially after the introduction of the turnpikes. Also, as many have remarked, the area is 'on the way to nowhere' – apart from Europe! – so was often bypassed by Travellers going north or south.
The administrative boundaries have changed several times so that family historians and local historians will need to familiarise themselves with the geography over a wider area if they want to find records and to travel to other parts of Yorkshire if need be. Currently the East Riding contains several parishes south of the Ouse that were formerly in the West Riding of Yorkshire.
There were – and are – many Romanies, Fairground people and other Travellers in ERYH: visiting, settled and itinerant. However, searches may be problematic as there are few direct references in the catalogues of the main Record Offices and other archives and libraries covering the area. This does not mean records are not there but they may need ferreting out. As usual it is easier to find families with known surnames or links with specific locations. But researchers from other parts of the country may still find distant relatives they were not expecting to be there.
One important feature of the area were the agricultural and travelling fairs. Notable was Howden Horse Fair, at one time said to be the largest in Europe. This surprisingly attracted dealers from as far away as China. Hull Fair was given its charter in 1279 and it still continues, being famed for its rides and sideshows.  Both events attracted considerable numbers of traders, hawkers, showfolk and merrymakers in the past, with local newspaper reports mentioning the influx of Gypsies at certain times of the year.
Our illustration shows a modern-day encampment of Gypsy/Travellers near Beverley, West Riding of Yorkshire, photographed by Rod Berrieman in 2018.
The region's Record Offices and Archives
When searching the online catalogues for the main Record Offices at the Treasure House, Beverley, and the History Centre, Hull, the signs are not very promising, with few obvious references using keywords. However, there are a few collections which may be of special interest.
• St William's Community Home
This young offenders' institution near Market Weighton was founded as the Yorkshire Catholic Reform School in 1856 and closed in 1994. There are detailed records of many boys and their families, including hawkers, tinkers etc. They were taken in from across the UK, not just Yorkshire, and there are many with Irish surnames reflecting a Catholic heritage. The online catalogue lists names of boys, parents, locations etc and some of the originals have photographs and other personal details. Please note that personal records are subject to 100-year closure rules.
• Quarter Sessions
The various sets of records include, for example, hawkers travelling without a licence. Unfortunately records for original licences do not seem to have survived but there are Settlement Passes which reveal people from as far away as Scotland, and convictions for vagrancy, including living in tents. For example: "25 April 1848. Conviction of Patrick Johnson of Durham, umbrella maker, for vagrancy lodging in a tent at North Cave. House of Correction one months hard labour."
• Pedlars' Certificates and related documents
The Centre has extensive records for hawkers and pedlars, with correspondence and minutes on Pedlars' Certificates and Complaints of Activities of Pedlars, especially for the 20th century. After 1945 many of these contain the addresses and ages of applicants.
• Cash books relating to Trinity Market

These include deposits for Hull Fair with some of the cash books including the depositor's name and amount given, including many well-known Showmen such as the Collins family.
• Hull Town Council Greek Gypsy Committee 1886

This folder has reports, correspondence and photographs of the Greek Gypsies who camped in Hull before moving elsewhere across the country. In fact, they were from Castellano, Corfu, and the few names given reflect the Italian occupation of the island.
• National Council for Civil Liberties Archives

The HHC also houses many specialist archives deposited with the University, including the National Council for Civil Liberties. The latter has interesting material from across the UK on policies and practices concerning Travellers, including press coverage.
Some interesting references to Romanies, Fairground people and other Travellers
One of the earliest references to Gypsies in the General Registration records must be for the death of Richard Horn in 1838 in the Wolds village of Kilnwick, north of Beverley. The parish burial record describes him as a 'Gipsy', and the death certificate is precise: "13 September 1838 on the Road near Hornhill Tops in the parish of Kilnwick, Richard Horn, male, 80 years, Travelling Tinner, Decay of Nature, The mark of Aaron Horn, Present at the Death".
 One can find Hornhill Tops on current maps just west of the village: did the name derive from the family? No location for the actual grave has been found in the official records as yet.
British Newspaper Archive references
Many of the detailed references to Romany Gypsies, Fairground people and other Travellers can be found online in the British Newspaper Archive, though not all accounts can be verified.  Romanies have been long identified with horse dealing and one story was intriguing, that of the Snowden family. James 'Jem' Snowden was born in the north of the county, reputedly at Flixton on 26 October 1843, with his parents being described as Gypsies. Both he and his brother Luke became among the leading jockeys of their age. Jem won the St Leger on the famous Blair Atholl, trained at Malton, as well as winning the Derby, the Oaks and numerous other races, including the Hardwick Stakes in 1866 on Gipsy King! From contemporary accounts he seems to have been a colourful character. He died of consumption on the 6 February 1889 at Bentley, near Doncaster, and is buried at Pocklington where there is a large memorial.
Another set of intriguing accounts concern the Cunninghams and their relations the Wilsons, who appear in census, court, newspaper and hawkers' licence records across Yorkshire, over a long period from the early 19th century until well into the 20th century. They seemed to have had a base in the Market Weighton/Howden/Rawcliffe areas but travelled widely. They were mainly described as potters/earthenware dealers, tinmen or hawkers.
Although not a Traveller, Frederick Hill of Swinefleet, near Goole, and his son Rowland, were among the best-known makers of carts and vardos (Romany waggons) from the late 19th century onwards.  Unfortunately, the account book which survives in The Treasure House archive does not contain records of Hill's Romany clients but may still be of interest.
Surnames of some of the area's Travelling people
Here are some of the surnames found in this area, though with no claim to being comprehensive: • Bosvill/Boswell • Corrigan • Cunningham • Grey • Herring/Heron • Johnson • Lowther • Robinson • Smith • Snowden • Thompson • Wilsher • Wilson • Winter • Young.
The 'Vipsies' and other local terms to be aware of
"The country people told us a long story here of gypsies which visit them often in a surprising manner. We were strangely amused with their discourses at first, forming our ideas from the word, which in ordinary import with us, signifies a sort of strolling, fortune-telling, hen-roost-robbing, pocket-picking vagabonds, called by that name." 
This is part of an account by Daniel Defoe in A Tour Through the Whole Island of Great Britain (Letter 9 North East England), published in 1724-6, describing a visit to the Wolds of the East Riding.  It is interesting not only because of Defoe's own preconceptions but also because it is an early reference to the 'Gipsey Race' or the 'Vipsies':  not the people, however, but a kind of spring or stream that may suddenly surface without warning and was traditionally thought to be a portent of disaster. In fact there are several Vipsies, the best known running across the north of the county into the sea at Bridlington.
This is not the only misleading reference. There is also a part of Hull called Gipsyville, apparently taking its name from a factory in the area which produced 'Gipsy Black Metal Polish'.
Another distinctive group researchers may be interested in are the 'Wold Rangers'. These were people who lived rough on the Wolds, getting work and shelter where they could. A Wolds Rangers Way has now been devised, with a series of shorter walks or 'Trods' commemorating some of the Rangers themselves. The historical background, together with downloads, is available here.
Finally, references to Travellers in the county can be found in unexpected places. One example is the medieval carving of a misericord representing a monkey pilfering a pedlar's sack that can be found in Beverley Minster.
Archives, organisations and online sources
Archives – General: This site is particularly useful for those who are new to research in the ERYH and who want to find what records are held where.
The Treasure House, Champney Road, Beverley, HU17 9BA: This site summarises items not only the collections held at the Treasure House itself but also others relating to the area held elsewhere. There are two online catalogues:
https://www.eastriding.gov.uk/CalmView/
https://www.eastridingarchives.co.uk/archives-online/
Website with digital images of the East Riding of Yorkshire
Hull History Centre, Worship Street, Hull, HU2 8BG
Hull History Centre Online catalogue
East Yorkshire Family History Society: The website includes cross references to sources and other helpful organisations.
The Carnegie Heritage Centre: Visitors to Hull should consider looking at their wide range of resources about the city and surrounds.
Wilberforce Institute for the Study of Slavery and Emancipation, University of Hull: Hull was an important transit point for migrants to and from Europe, and to North America, including those escaping persecution. The Institute's research and library resources encompass historic and contemporary slavery and related topics such as migration, diasporas, trade and justice.
British Newspaper Archive: This is one of the best online sources for historic newspapers for Britain and Ireland. It's available via subscription in its own right and also as an element of a subscription to the Find My Past genealogy site. Both sites may be available free in some public libraries, As well as publications based within the ERYH area, researchers should look at newspapers in the North Riding and West Riding of Yorkshire and neighbouring Lincolnshire: for example, those published in Doncaster, Leeds, York and Lincoln.
Ancestry: Through their partnership with the West Yorkshire Archive Service, Ancestry offers many historic records relating to the area south of the Ouse which are currently in the East Riding of Yorkshire Council area, and potentially other parts of the historic East Riding.
Find My Past: Their Yorkshire Collection online includes records from the East Riding of Yorkshire Council and the Borthwick Institute of Archives, York, as well as of many parishes which were in the historic East Riding but now form part of North Yorkshire.
Hull Fair: the history of the Fair based on information provided by Dr Vanessa Toulmin.
Children's Homes and Workhouses: For detailed information on the numerous locations in ERYH – and elsewhere – where poor, vagrant Travellers might have been placed, see the Peter Higginbotham's two websites: http://www.childrenshomes.org.uk/ and http://www.workhouses.org.uk/
Background information:
https://www.eastriding.gov.uk/living/travellers-and-gypsies/
http://www.nycyerhousing.co.uk/gypsies-travellers/
Useful search terms
The success of many searches for Romanies and Travellers depends on clever use of keywords and variants. As many Travelling peopler were recorded as agricultural labourers or similar, it is often important to look for 'typical' occupations, residences or activities that might have attracted attention, and record.  These are a few suggestions:
Itinerants/rogues and vagabonds/vagrant/traveller
Basketmaker/Pot seller/Marine dealer/Blacksmith/Tinman/Chimney Sweep
Caravan/Van/Tent/Camp/Encampment
Horse and related activities eg horse dealer, horse fair, horses straying
But please note: some associated with Romanies and Travellers may lead searchers down the wrong road. For example, there were many vessels using the local ports such as Hull, Goole and Bridlington which have Gypsy or something similar in their name. Likewise there are many names for racehorses that use the term 'Gipsy' and 'Gypsy'! Across the 19th century and even into the 20th century, you will find many mentions in newspapers of 'gipysing', where members of the settled population enjoyed leisure activities that they felt reflected their rather romantic notion of Gypsies' lifestyles. Press reports mention 'gipysing' in Welton Dale, west of Hull, and there is at least one reference to a 'Gipsey Choir'
Bibliography
Cochrane, Margaret and Robert (2005): 'The Virtuoso, The Gypsy and The Violin' in Around the Wolds and North Yorkshire.  Issue 101.  April/May 2005. Article on John Dunn, violinist, and Arthur 'Fiddler Jack' Young and family in Withernsea c1894.
Cockcroft, Barry (1979):A Romany Summer. (London:  J M Dent & Sons Ltd). There is an associated film that can be viewed free at the British Film Institute (BFI) site.
Corrigan, Edwin (1972):Ups and Downs and Roundabouts. (Driffield:  Ridings Publishing Co). Includes a detailed diary of fairs and travels in Yorkshire and north of England.
Crofton, Henry Thomas (1907-1908):Supplementary Annals of the Gypsies in England before 1700 with reference to Volume 1 of the Journal of the Gypsy Lore Society Journal pp 5-24.
Samuel Charles, a Nonconformist minister, preached sermons at Hull, in the county of York, in which he refers twice to Gypsies. See the Journal of the Gypsy Lore Society Old Series Volume 3, p123 and the Journal of the Gypsy Lore Society New Series Volume 1 (1907-08), p33. Both are available free at the Hathi Trust website.
Dawson, Robert (1998 Summer Issue): Yorkshire's Historic Romanies', Yorkshire Journal, 22, pp41-51.
Hickes, Michael (2006): 'Where Have All the Tramps Gone?' in Around the Wolds and North Yorkshire.  Issue 108.  June/July 2006. Article on the 'roadsters' of the Wolds and the 'Wolds Rangers'.
Hoyland, John (1816):A Historical survey of the Customs, habits, & present state of The Gypsies; Designed To Develop The Origin Of This Singular People, And To Promote The Amelioration Of Their Condition. (York: William Alexander). Available free online at Gutenberg.org. Reprints of the book also available to purchase from the RTFHS. Contains references to Gypsies in Scarborough and Pocklington.
Ivatts, Arthur R (1976):The Gypsies of East Yorkshire: an ethnological description and a study of the Gypsies' response. Dissertation/Thesis: University of Hull.
Journal of the Gypsy Lore Society, Old Series Volume 1, July 1888-Oct. 1889. p5ff: Early Annals of the Gypsies of England. Available free online at the Hathi Trust website.
Longthorne MBE, Joe with Chris Berry (2015):Sugar in the Morning, The Autobiography. (London:  John Blake Publishing Ltd.). Born in Hull, Joe Longthorne, entertainer, was perhaps the member of the local Travelling community best known to the wider world.
Neave, Sarah & Stephen Ellis (1996):An Historical Atlas of East Yorkshire. (Hull:  University of Hull Press). An essential companion for understanding key historical developments, arranged by themes including sections on markets and fairs, communications, population and settlement, administrative units and an extensive bibliography.
Phillips, George S. (1864):The Gypsies of the Danes' Dike.  A Story of Hedge-side Life in England, in the Year 1855. (Boston: Ticknor and Fields).  Available at Archive.org. A fictional work but its author claimed it derived from experiences with Gypsies in the Flamborough area.
Victoria County History: the volume for Hull contains useful background such as summaries of the major fairs and markets and the history of circuses visiting Hull from the late 18th century. The VCH coverage of the East Riding of Yorkshire is still ongoing.
'Complete Guide to East Yorkshire Family Research'.Who Do You Think You Are? Issue 176, April 2021.
'Special Focus on Canal-Boat Families'.Who Do You Think You Are? Issue 183, October 2021.
Wood, Val (2011):The Gypsy Girl (originally titled The Romany Girl). (London: Corgi Press) Anyone who enjoys historical fiction may be interested in this work, set in the Romany, circus and fairground world of the East Riding and Hull of the early 19th century.
Jones, E. Alan:Yorkshire Gypsy Fairs, Customs and Caravans, 1885-1985 (Hutton Press). An excellent introduction to the subject with some surnames mentioned.
Yorkshire Records Series: available in many Yorkshire public libraries, containing transcriptions of parish records.
A shorter version of this article originally appeared in 'Romany Routes', the journal of the RTFHS, in the March 2022 edition.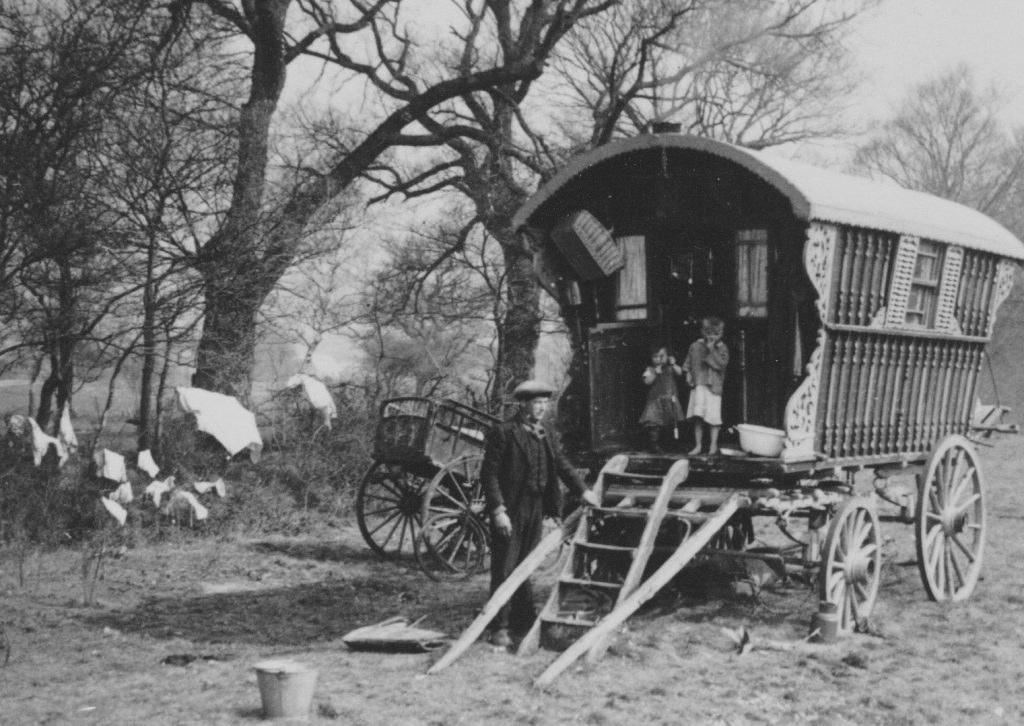 Hertfordshire
Main archives for the county
These are housed at the Hertfordshire Archives and Local Studies, County Hall, Hertford SG13 8EJ. There's an online catalogue plus books and maps for sale.
This site holds indexes of names extracted from Hertfordshire records ranging from crime and punishment documents, marriages and Poor Law records to newspaper references. Searches of the indexes are free. If you find something of interest, copies of the original documents can be copied and sent to you for a small fee.
Hertfordshire Parish Registers
Find My Past holds a major collection of digitised baptism, marriage and burial registers for the county. Parishes currently covered on the site are listed here.
Hertfordshire Newspapers
The British Newspaper Archive website includes 12 newspapers for the county, the biggest coverage being for the period 1850-1900. These newspapers are duplicated on the Find My Past site. Both are subscription sites.
This free site offers useful information on Hertfordshire history and family history sources as well as books.
The HFHS holds indexes that can be searched for non-members on payment of a fee. They include:
Hertfordshire Burial Index 1800-1851: 137,000 names extracted from all known parish burial registers and those for non-Conformist churches and chapels. Also available to purchase on CD-ROM.
National Burial Index for Hertfordshire.
Some indexes are available free on their website. Follow the Projects link and The Poor Law in Hertfordshire to see PDF documents containing names extracted from Settlement Orders, Removal Orders and Settlement Examinations with reference numbers of the original documents held at the Hertfordshire Archives.
The HFHS also publishes printed books and CD-ROMs on Hertfordshire history, family history sources and name indexes ranging from militia records and those transported to Australia to Poor Law records.
Photographic collections
The photographer Fred Shaw (1867-1950), a prominent member of the Gypsy Lore Society, lived in Friern Barnet, Hertfordshire. His collection of photos, held in the Scott Macfie Gypsy Collections at the University of Liverpool, contains numerous portraits of Gypsy families he met in his home county in the first decades of the 20th century:
The Hertfordshire Archives and Local Studies in Hertford also offer on-site card indexes to the photos and press cuttings they hold relating to local Gypsies, Travellers and Fairground people.
Originally published in 'Romany Routes', the journal of the RTFHS, in the December 2018 edition.
Lancashire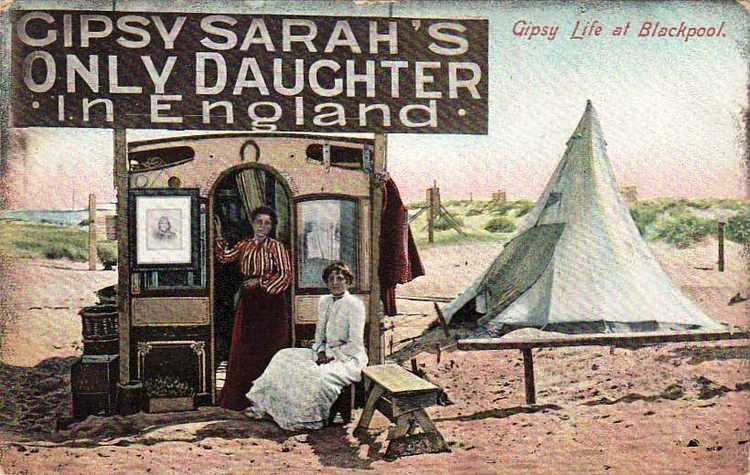 Main archives for the county
These are housed at the Lancashire Archives, Bow Lane, Preston PR1 2RE. There's an online catalogue – called LANCAT – here.  There are also important collections in the Central Library, Liverpool; and the Greater Manchester County Record Office in Manchester Central Library. Both have online catalogues.
Parish registers online
Major collections of historic parish records can be found online at:
Ancestry.co.uk – subscription site. Includes digitised records for Liverpool parishes: baptisms, marriages and burials from 1659 to 20th century; Lancashire – 1538-1911; Manchester – 1541 to early 20th century. Liverpool Catholic Church records. Plus Lancashire Quarter Session records (1648-1908) and Vagrants' Passes (1801-1835).
Findmypast.co.uk – subscription site. Includes digitised records for Liverpool and Lancashire parishes plus Liverpool Catholic Church records.
Lancashire newspapers
The British Newspaper Archive website includes 46 newspapers for the county, with a number of different titles for the major conurbations such as Liverpool and Manchester. The biggest coverage is for the period 1850-1949. The collection is duplicated on the Find My Past site.
Gypsy Lore Society Collections, Special Collections & Archives, University of Liverpool Library
The city of Liverpool is home to one of Britain's principal collections of archives relating to the history, culture and genealogies of British Romany people. Family historians are warmly welcomed to visit.
Photographic collections: specialist Romany Gypsies and Travellers
The Gypsy Lore Society Collections above also hold a world-renowned collection of photographs of British Romany people dating from the 19th to the 20th century. Small thumbnail versions of many of their images can be seen online by doing a name search or subject search in the catalogue here. Copies can be ordered for a reasonable fee.
Photographic collections: local history and social history
The free online Red Rose Collections offer historic photos of the towns, cities, people and events of the county, plus newspapers, historical documents and local book indexes.
Originally published in 'Romany Routes', the journal of the RTFHS, in June 2019. Our photo shows two members of the Boswell family who belonged to the Blackpool Romany Gypsy community and who lived and had fortune-telling booths on the sand dunes at South Shore. The photo dates from about 1905.

Norfolk
Main archives for the county
These are housed at the Norfolk Record Office, Martineau Lane, Norwich NR1 2DQ. There's an online catalogue here.
Norfolk Parish Registers
Ancestry holds a major collection of digitised baptism, marriage and burial parish registers and Bishop's and Archdeacon's Transcripts for the county. They claim to have coverage of three quarters of all the parishes in Norfolk for burials 1535-1990, marriages and banns 1535-1940 and baptisms 1535-1915.
Find My Past also offers baptisms, marriages and burials from Norfolk parishes. In addition, they have collections of monumental inscriptions, electoral registers 1832-1915 and Poor Law Union records. The latter are available in a 'browse only' form – that is, the original documents but unindexed – but they may include references to Travelling people who entered workhouses through ill health or poverty or were arrested for vagrancy.
For Norfolk records you can access free, try FamilySearch. Their collection includes baptisms, marriages and burials from parish registers plus electoral registers.
Norfolk Newspapers
The British Newspaper Archive website includes 12 newspapers for the county, the biggest coverage being for the period 1850-1949. These newspapers are duplicated on the Find My Past site. Both are subscription sites.
Family History Societies
The Norfolk Family History Society (NFHS) offers its members a free Norfolk Online Record Search (NORS) facility. This is said to contain nearly 4.5 million records from Norfolk parish registers, monumental inscriptions and birth, marriage and death records.
The Mid-Norfolk Family History Society focuses on family history research in the towns and villages that lie within 10 miles of Dereham.
The Diss Family History Group offers free online searches of records for Diss and surrounding towns and villages plus a programme of monthly talks for members.
Photographic collections
Ivor Evans (1886-1957), a prominent member of the Gypsy Lore Society, took photographs of Romany families in Norfolk and adjacent East Anglian counties between 1924 and 1932. He donated his collection of about 150 items to the Scott Macfie Gypsy Collections at the University of Liverpool as a Jubilee gift in 1938. More information about Ivor Evans' collection and a list of his photos including the names of the people in them can be found here.
Articles in the Journal of the Gypsy Lore Society
The Gypsiologists Ivor Evans (above), T W Thompson and Eric Otto Winstedt had a special interest in the Gypsies of Norfolk and adjacent counties and often wrote articles about them for the Journal of the Gypsy Lore Society. The full run of the Journal from 1888-1999 can be read and downloaded for free at the Hathi Trust website.  There is a word search mechanism available for each edition.
Originally published in 'Romany Routes', the journal of the RTFHS, in the March 2019 edition. Our photo, courtesy of Bob Dawson, shows Gypsies camped in a yard in Norwich, Norfolk, celebrating the 1897 Diamond Jubilee of Queen Victoria.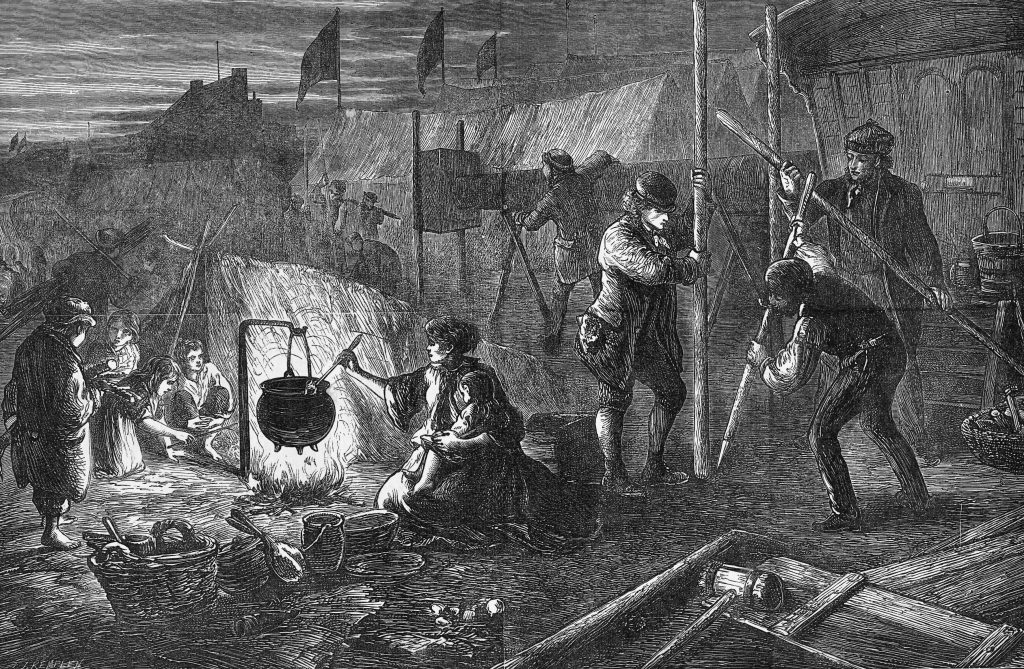 Surrey by Jeremy Harte
Main archives for the county
It's hard to think that Surrey was once an open landscape stretching south of London. Population has increased in the last few centuries, though Greater London poached most of it, so it is also worth consulting archives from the London boroughs of Wandsworth, Merton, Lambeth, Sutton, and Croydon. Their holdings are best searched via The National Archives website.

The county collection is at Surrey History Centre in Woking. The Centre's archivists flag up Gypsy material wherever they find it, including references in Quarter Sessions and Pedlars' Certificates. The website Exploring Surrey's Past
has several excellent pages on Gypsy history.
Surrey History Centre also holds an important collection of Fairground material, the Philip Bradley collection. This includes written accounts about fairs and 30,000+ photographs taken between 1936 and 1999, nearly 5000 of them of fairs in Surrey.

Parish registers
Online name-indexed digitised parish registers for the county can be found on Ancestry by subscription: baptisms 1538-1917; marriages 1538-1937; and burials 1538-1997. Transcribed records can be found free at FamilySearch.org.

Collections of baptisms, marriages and burials were also made by Jackie Blackman in a database called 'Gypsies Passing Through' which can be found online via Facebook. Surrey History Centre site has a page listing archived, online and published parish registers.

Newspapers
Long runs of the Surrey Advertiser, Surrey Mirror and West Surrey Times can be found at the British Newspaper Archive and also at Find My Past, along with the Dorking Advertiser. Surrey History Centre holds microfilms for local titles from Farnham, Weybridge and Woking.
Local Family History Societies
There are two of these, covering the eastern half and the western half:
East Surrey Family History Society
West Surrey Family History Society
Background reading
Alan Wright's Their Day Has Passed: Gypsies in Victorian and Edwardian Surrey (2017) is rigorously researched.
• Denis Harvey's The Gypsies: Wagon-Time and After (1979) is rich in pictures and knowledge of the community.
• From an earlier age, much of Charles Leland's The Gypsies (1882) quotes people from Surrey and can be matched against his notebooks in the British Library, Add MSS 37168–74, 38059–60, 39559–61. The book itself can be found free online at the Internet Archive website.
• A Surrey Gypsy Bibliography, by Jeremy Harte, published by and available from the RTFHS, lists sources for family history and social history.
• Alan Wright's Surrey Census of Nomads, 1913, published 2020 by the Surrey Record Society, looks at the county's Traveller population in terms of numbers and public attitudes to it but does not include any personal names of the Travellers themselves. (Romany Routes reviewed this book in Volume 15 No. 3 – June 2021.)

Museums with Gypsy Collections
There are Gypsy collections at Chobham, Dorking, the Rural Life Living Museum near Farnham and Bourne Hall Museum in Ewell.
Key places in the county for Travelling people
Surrey was traditionally a meeting-place for people from outside as well as local short Travellers. Norwood was the major centre of Gypsy culture until its stopping-places were broken up in the 19th century. Afterwards, traditional circuits left London in the Spring for the races, then dispersed for farm work to meet in August at Mitcham Fair, before heading west to Farnham at the edge of the South Country hopfields and back to overwinter in the capital.
Molesey Races near Hampton Court were the place for families to gather until the 1840s, followed by Ascot, just over the northern border, and the Derby held at Epsom Racecourse every June. There will often be clusters of baptisms and traditional burials at a sympathetic church, not always the nearest one.
Gypsies attending the Derby were a magnet for journalists, artists and photographers, some of whom kept a record of who they'd talked to. The Gypsy Lore Society collections at the University of Liverpool include scrapbooks of press cuttings and it is worth checking The Times and Illustrated London News archives.
Every year of the Derby is on film from the 1920s and it is worth watching old Pathé newsreels, free online, together with older relatives who can perhaps identify people who feature in the obligatory two-minute Gypsy clips.
Originally published in 'Romany Routes', the journal of the RTFHS, in the June 2022 edition. Our image is 'The eve of the Derby', showing Romany Gypsies preparing for the night at Epsom Racecourse in Surrey, courtesy of Jeremy Harte.
This page updated 12 January 2023.