Journal
Romany Routes
is the journal of  the Romany & Traveller Family History Society.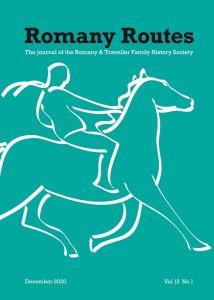 And it's exclusively for our members: just one of the benefits of signing up as an RTFHS member and paying an annual subscription.
Romany Routes is published four times a year: in March, June, September and December.
Every edition is packed full of research tips, family history and social history features, old photos and things that members have discovered about travelling people and their own ancestors in old newspapers, parish registers and censuses.
Like a free sample of what's inside?
Here's a free sample of the kind of articles, news and photos you can enjoy every quarter as an RTFHS member. This is an edited edition with selected pages. A full Romany Routes is always a minimum of 48 pages: Romany Routes Taster Edition.
What's been in Romany Routes before?
Find out here:
Buy the first nine complete volumes of Romany Routes (Volumes 1 to 9) as two downloadable PDF documents. Head to Publications to find out more.
See free online indexes to Volumes 1 to 14 of Romany Routes here.
Past issues of Romany Routes are sometimes available to buy too. Check this RTFHS Romany Routes Order Form for details.
Check the list of the main articles and the images that have appeared in each volume here:
Volume 15 Romany Routes contents – coming soon!
Like to contribute something for publication?
The Editor of Romany Routes welcomes contributions, small and large, from all RTFHS members and from non-members too. They could be:
Stories that your family used to tell
Your own memories of Romany, Traveller or Fairground life
Snippets from your family tree
Your family history research successes
What your ancestors did for a living
Websites, Record Offices or books that have helped you in your research
Finds from parish registers, newspapers or historic documents
Photos from your family album
Family photos with people you can't identify
Click here for more help and ideas from our Romany Routes Contributor's Guide 2016. And then put pen to paper or head to the keyboard and contact the Editor of Romany Routes – Sharon Heppell – at: editor(at)rtfhs.org.uk (Just replace the 'at' in the address with the @ symbol.) Or write to: Flat 53, 41 Provost Street, London N1 7NB.
And remember: because we deposit every edition of Romany Routes with the six copyright deposit libraries of the British Isles, anything you contribute to Romany Routes about your family and your research will be preserved so that future generations will be able to read, learn from and enjoy your work.
You will already find 28 years' worth of Romany Routes on the shelves of the British Library in London, the National Library of Wales in Aberystwyth, the National Library of Scotland in Edinburgh, the Bodleian Library in Oxford, the Cambridge University Library and the Library of Trinity College in Dublin as well as in the Special Collections in the Library of the University of Liverpool.
What do people say about Romany Routes?
"Something new and interesting with every journal." Christine
"One of the very best magazines I receive. The Society is great." Ena
"I have been most impressed with the new-look journal since it was revamped. I have found it more interesting and informative." Tony
"Thank you so much for all the interesting articles throughout the year. Have so enjoyed tracing the families through the years." Joan
"The journal is great. Very professional and interesting." Pauline
"I look forward to the magazine and enjoy it very much." Wisdom
This page last updated: 8 December 2022.